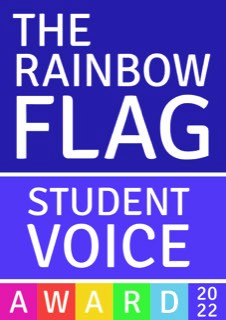 The Whitby High School have been awarded the Rainbow Flag Award for 2018.
The Whitby High School have been awarded the Skilled Teacher Award and working towards The Rainbow Flag Award for 2022.
Through this initiative we are focusing on positive LGBT+ inclusion (Lesbian , Gay , Bisexual , Trans, plus other related identities, We are demonstrating a commitment to improve the lives of all young people that we work with , including those that are LGBT+, those from LGBT+ families and LGBT+ staff members.
LGBTQ+ Rainbow Club. Open to Lesbian, Gay, Bisexual, Trans Student and Allies.
Monday lunchtimes in D9 from 12.50 – 1.10pm for KS3 students.

Friday lunchtimes in M4 from 1.45 – 2.05pm for KS4 students.
LGBTQ+ support and information
Transgender and help with support
Phoenix is a series of youth group for young people aged 13-19 years who identify as LGBTQ+ (lesbian, gay bisexual, trans, plus other identities) or anyone who is questioning their sexuality or gender identity in the Cheshire West area. These groups will be a safe space, offering you a wide range of fun activities and opportunities, plus the chance to meet lots more LGBTQ+ young people.
Whitby Hall, Stanney Lane, Ellesmere Port, CH65 9AE
6.30 – 8.30pm – 1st and 3rd Tuesday of the month.