SUBJECT OVERVIEW
KEY STAGE 4
Engineers are in great demand in the UK. The North West area and in particular Ellesmere Port have an abundance of opportunities for young people in engineering and manufacture.
The traditional engineering courses at Whitby have proved to be very successful in providing valuable knowledge, skills and experience for students wishing to pursue a career in Engineering.
Engineering is a very popular optional subject at Key Stage 4 and Key Stage 5.
The aim of Engineering at The Whitby High School is to prepare students for Further and Higher Education or to enter the employment sector through the many apprenticeship opportunities in the local area. This is achieved through highly experienced and expert staff, exceptionally well resourced workshops and courses chosen to suit our demographic.
FACTS AND FIGURES
100% of Year 13 Engineering students achieved A or B Grades in 2018.

(all numbers are approximate)
COURSES
These courses are opted for in year 9 and completed during years 10 and 11.
The current course offered at Key Stage 4 is the BTEC Tech Award in Engineering.
How does the course work? The course is made up of three components: two that are internally assessed and one that's externally assessed. The three-block structure, explore, develop and apply, has been developed to allow students to build on and embed their knowledge. This allows them to grow in confidence and then put into practice what they have learned. The assessment structure is also designed so that students can build on what they learn, and develop their skills, as they move through the course.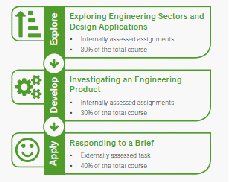 Further information about these units along with sample assessment material can be found here:
https://qualifications.pearson.com/en/qualifications/btec-tech-awards/engineering.html